LEFin et LSFin: délais de mise en oeuvre (2020-2022)


16 November 2020
- Publications - Written by Fabien Aepli & Lukas van Dobben
Notre équipe de droit bancaire et financier présente une synthèse graphique, sur une page, des différents délais de mise en œuvre des récentes lois financières suisses (Loi sur les établissements financiers, LEFin, et Loi sur les services financiers, LSFin).
Fabien Aepli, associé, et Lukas van Dobben, conseil, sont à votre disposition pour toute question.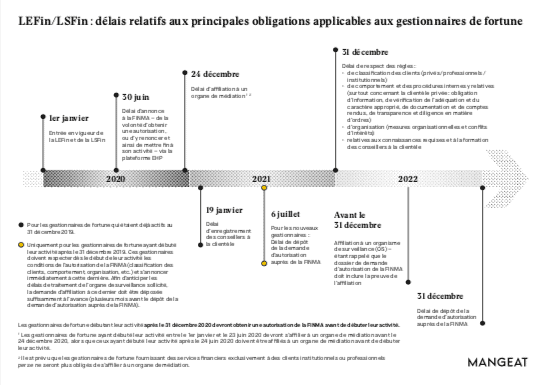 Télécharger le visuel

About the Authors
Fabien Aepli
Fabien Aepli is a partner at MANGEAT. His main practice areas are Banking & Finance, Commercial Contracts and Corporate Law.
Learn more about Fabien
Lukas van Dobben
Lukas van Dobben is a Counsel at MANGEAT. His main practice areas are Corporate & Commercial, Banking & Finance and Foundations & Trusts.
Learn more about Lukas